Past-President: Scott Pavey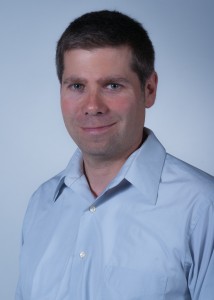 Canada Research Chair
Department of Biological Sciences
100 Tucker Park Road
Saint John, NB E2L 4L5 Canada
506-638-2434
I am broadly interested in ecology, evolution, and genomics. More specifically, I study the process of colonization and local adaptation, the role of life history and behavior in relation to ecology and morphology, and the ecology of gene function. I use genetic, behavioral, morphological, and genomic tools in a holistic approach to understand the relationship of ecology, evolution, and the function of genes in natural populations. My model organisms are commercial, recreational, and culturally important species to New Brunswick and Atlantic Canada.
---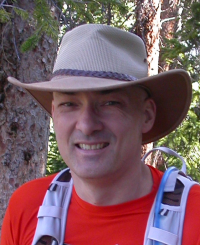 President: Trevor Avery
Assistant Professor
33 Westwood Ave.
Departments of Biology & Mathematics and Statistics
Acadia University
Wolfville, Nova Scotia,  B4P2R6
trevor.avery@acadiau.ca
I research aquatic (and sometimes terrestrial) systems using biostatistical methods with a focus on animal populations, conservation, and human dimensions. Currently, my students study population dynamics, conservation, stewardship and recreational angling of Striped Bass and two skate species (Winter and Little Skates), social cohesion in fishes, American Eel habitat use and population dynamics, introduced species (Smallmouth Bass and Chain Pickerel) and their effects on community structure. We use and create long-term data sets through conservation monitoring. Various smaller projects include lynx prey habitat use, squid and lady crab demographics, and the use of local ecological knowledge in conservation. I also teach biostatistical methods mainly through R and through organizing rbar.ca.
---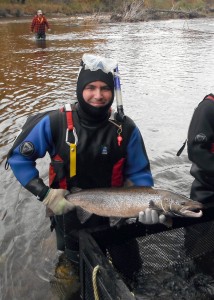 Vice-President: Jason LeBlanc
Manager-Resource Management, Nova Scotia Fisheries and Aquaculture
PO Box 700, 91 Beeches Rd, Pictou, NS, CAN   B0K 1H0
O: (902) 485-7029  F: (902) 485-4014 M; (902) 396-8021
Email: jason.leblanc@novascotia.ca
I currently work in research and development for the recreational sportfishery of Nova Scotia. I manage the Resource Management Section which leads provincial sportfish management programs, monitoring, regulation development, research initiatives and programs designed to maximize economic contribution and increase understanding and recognition of the freshwater sportfishing.  One of my main goals is to improve the conservation of the Province's fishery resources through active stewardship, partnership and the use of strategic stakeholder management practices to ensure sustainability of the freshwater fishery for future generations. My interests include aquatic ecology, invasive species issues, smallmouth bass reproductive behavior and coastal ecosystems.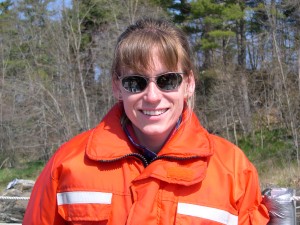 Treasurer/ Secretary: Christine Lipsky
Christine A. Lipsky
Research Fishery Biologist
NOAA-Fisheries – Maine Field Station
17 Godfrey Drive – Suite 1
Orono, ME 04473
Phone: 207-866-4667
Christine.Lipsky@noaa.gov
Christine Lipsky began her fisheries career in Alaska while working at Southern Southeast Regional Aquaculture Association (SSRAA) after graduating from Bates College with a degree in biology. She received her M.S. in Fisheries Science from the University of Rhode Island in 2000, and worked for several years as a salmon biologist for the State of Rhode Island. In 2003, she moved to Maine to work for NOAA's National Marine Fisheries Service as a Research Fishery Biologist as part of the Northeast Salmon Team. She has additional responsibilities working with sturgeon as well as estuary ecosystems. Christine has been a member of AFS since 2000 and has been a Certified Fisheries Professional since 2004.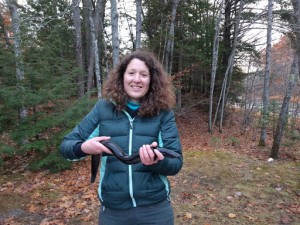 University of Maine Subunit President: Berlynna Heres

Wildlife Fisheries and Conservation Biology Department

Nutting Hall Room 220, Orono, ME, 04469-5755

I am a student at University of Maine in the Wildlife, Conservation, and Fisheries Biology Department, pursuing my PhD in in Wildlife Ecology. I attended St. Petersburg College for my BS in Biology, and Marshall University for my MS in Biology, where I studied eastern diamondback rattlesnake habitat selection. Currently, I work with American eel, specifically studying their downstream migration and survival. I am interested in community ecology, trophic dynamics, and migration.

https://www.facebook.com/UMaineAFSStudent/
---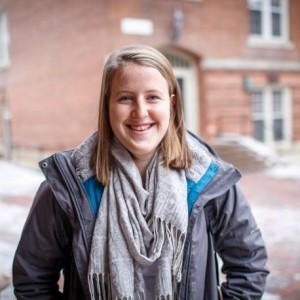 University of New Hampshire Subunit President: Kelsie Miller
Spaulding Hall, 38 Academic Way, Durham, NH 03824
I am currently a graduate student at UNH pursuing my Master's Degree in Marine Biology. My research is focused on examining whether stress and the stress hormone, cortisol, has an impact on black sea bass (Centropristis striata) sex differentiation. I earned my Bachelor's Degree in Biology at Saint Michael's College in Colchester, Vermont where I examined the diet selectivity of White Perch (Morone americana) in Lake Champlain. During undergraduate career I received the NOAA Hollings Scholarship and had the opportunity to do an internship in Beaufort, NC examining how stress impacts the invasive lionfish (Pterois volitans). My research interests include fish physiology, fisheries science, invasive species, conservation and basically anything to do with fish!
Link to UNH Student Subunit webpage: